Designs Make The Most Out Of Mudrooms

Living on the North Shore is truly living on the edge of wilderness. Most of us are just minutes from a trailhead and aren't shy about using it. Rain and mud don't keep us indoors but rather seem to draw us out. Where else on earth could a hike as tortuous as the Grouse Grind become as popular as it has. It's obvious we're a different bunch with some very specific needs. From an architectural point of view one of them is a fully functioning mudroom.
The mudroom, as its name describes, is a room that controls mud. It's a processing point that takes the dirty household entrant and transforms them into the clean and presentable household occupant. Wet kids, muddy dogs and trail-mauled hikers can be efficiently cleaned up without spreading their mess to the rest of the house. I tell my clients that a well-designed mudroom will become one of the most important rooms of their house.
The scale of the mudroom will be a reflection of the number of household members and the general activity level of the group but, in the end, the planning concepts that shape it will remain the same. It should be located near the main entry point to the house (not necessarily the front door) and should be inviting while still concealing the inevitable clutter from the rest of the house. The floor of the mudroom should be made of a hard, easy cleaning surface that allows quick clean-up. For the avid mountain biking couple with four active kids, a drain in the centre of the room will help. Incorporate an in-floor radiant heating system for pleasant greetings to cold bare feet.
The mudroom should provide a bench for taking boots on and off with space below to store them. I generally provide hooks above for coats and packs, one row at adult height and another accessible by kids. Smaller cubbie spaces for gloves, hats and the like should be close at hand while a drying rack can be a great addition in our wet climate. It's also handy to provide additional coat hanging space for guests if space allows. In larger more deluxe mudrooms individual storage units can be provided for each member of the family allowing for even better organization and containment.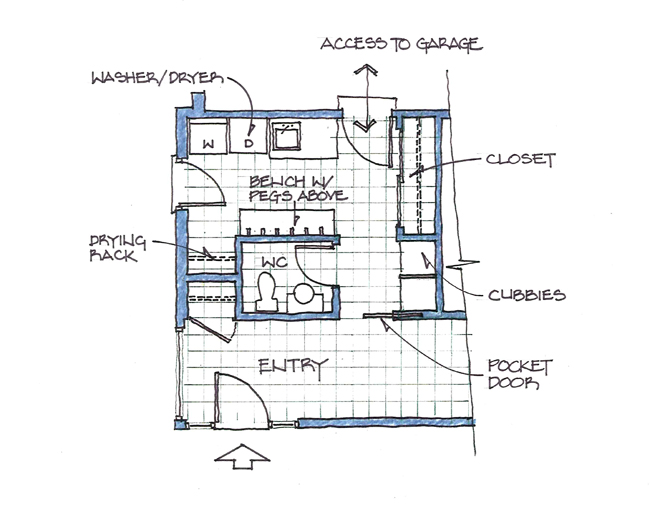 I always try to locate the mudroom as close to the garage as possible so that bikes, skiies or strollers are dropped off at the entry. Providing a toilet, shower and washer-dryer as part of the mudroom will also make it all the more useful. You can enter your mudroom after a messy foray outside, dump your dirty clothes in the washer, hit the shower and step into your house dry and clean, fully processed.
Here are a few design ideas that help make a successful mudroom:
• Locate adjacent to your primary entrance.
• Durable and washable floor surface.
• Bench with pegs above and shoe/boot storage below.
• Cubbie space for small items like hats and gloves.
• Close proximity to washer/dryer, shower and toilet.
• Adjacent to garage
Big or small, a mudroom is the perfect room to manage the realities of dirty, daily life. Design a good one and you'll never regret it.