Site Planning & Analysis

A home and its property are inextricably linked in a marriage that can be as successful as it can be fruitless. Architects recognize the importance of this relationship and make site planning the first order of business when approaching the design of a new home or renovation.
Be it a rolling meadow or a precipitous cliff, every house is joined to a site that will directly inform its massing and layout. The unique characteristics of a property should be seen more as opportunity than a challenge. Many of the finest examples of residential architecture are acknowledgements of the distinctive qualities of a site developed into an essential theme of the project. Arthur Erickson's Smith Residence built in West Vancouver in 1964 boldly bridges two granite outcroppings that, to a less talented designer, might have been seen as a hindrance rather than an inspiration. Supported on huge fir beams the fully glazed living room floats above the surrounding landscape and spans the courtyard entry below. It's a masterpiece of residential design, revealed by the challenges of a demanding site rather than in spite of one.
From personal experience we were approached recently by clients wanting a new house on a large, sloping lot overlooking a lake. They wanted to spill the house across their site in a manner reminiscent of a summer camp but wished to maintain a magnificent willow tree growing in the centre of the property. Adding to the character of the site, the remnants of a dry river bed meandered through the acreage.
We decided to create a grouping of buildings that encircled the willow and made this spectacular tree an integral part of the house and its views. By bridging the stream with an oversized mudroom, we were able to make a feature of the dry river bed while creating a dramatic link between garage and house proper. A tower pokes its head above everything to get views down the lake and to the mountains beyond. By embracing its site we feel this new house truly belongs to its property. (see image below)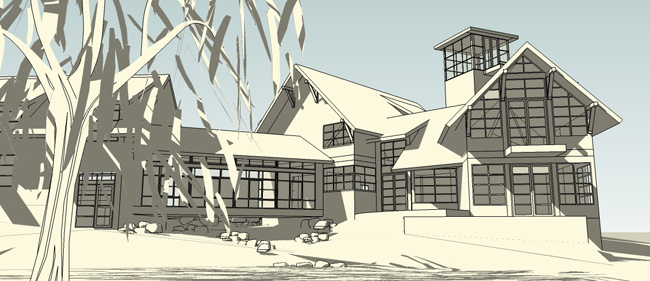 Here are the essential CUES we take from a site before we start designing:

1. Capture views and sun. Plan your house to best utilize view corridors and sun. Don't build your house on the sunny spot of your lot but rather adjacent to it. Try to maximize those south facing outdoor spaces. Look to bringing that winter sun into the house while keeping the summer rays at bay.
2. What's Unique about your property? It might be a cliff, a view or a just a big, bright yard but this special feature can play an important role in the design of your house.
3. Understand the Essence of the site. Try to work with the site rather than force something on it. The placement of structures, roads, gardens and outdoor areas should enhance the site rather than take from it.
4. Be Strategic in the placement of your house and its landscaping. Use the building itself to screen unwanted views and create private zones. Be creative with your landscaping. It too can work as an effective tool to separate public and private areas.
Siting is the key first step to a successful design. Get this right and the value of your home will always benefit.