Zoning

If you've ever dealt with a municipality regarding zoning and bylaw regulations you're probably well aware that this can be a frustrating and confusing experience.

Something allowed in West Vancouver might be prohibited in North Van. So it's essential you check the regulations before you start designing.

"Every district and municipality has their own set of zoning requirements" states Ross Graham, principal at Kallweit Graham Architecture, "They're as unique as the communities they cover."

Be it commercial, multi-family or single family residential, a particular piece of land will be governed by zoning regulations that define its place within the larger community plan. These regulations dictate the size, shape and location of a building on a site in order to ensure that what's being built is in keeping with its context. By setting restrictions on fundamentals such as setbacks from property lines, maximum building heights or permissible built areas, zoning bylaws quickly define what you can and cannot build.

Occasionally there are situations where zoning bylaws move beyond being reasonable rules and thwart the best and most sensible design solution. Such cases are typically looked at by a building committee based on the submission of a variance application. If the grievance is deemed justified, the contravening design will be allowed.

Recently the architects of KGA were approached by a young family wanting a new home in the Queen's Park district of New Westminster. They wanted to create a traditional looking home that would sit comfortably within in the context of one of the oldest neighbourhoods in the province. Queen's Park boasts one of the finest collections of turn of the century homes in Canada with steep roofs, sweeping porches and striking overhangs defining its architecture. After incorporating many of these features into their design the architects found themselves contravening the zoning regulations of New Westminster in both height and square footage. They were forced to apply for a variance. In the end the application was enthusiastically accepted by the building committee who quickly understood that their contravening design was doing so to reflect its context. A skilled designer/architect will recognize when going this extra mile will be better for the client and the neighbourhood. (see example)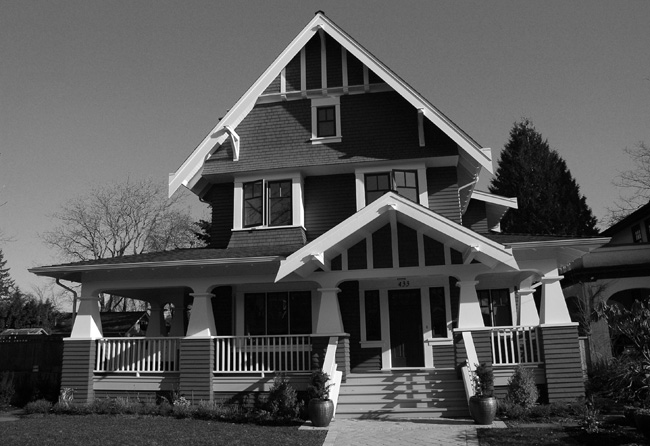 Here are a number of zoning regulations a home owner may need to address before embarking on a building project:
Setbacks define buffer zones around the edge of a property in which a building is not permitted. Most bylaws allow certain elements of structure like overhangs and chimneys to protrude into the setback but not always. Accessory buildings such as garages and storage sheds are generally permitted within the main building setbacks but fall under their own individual requirements.

The height of your home is calculated differently with every zoning district. Some measure from average grade height while others measure from the highest façade up. For sloped roofs maximum heights might be taken to ridge line or to the median height of ridge and roof spring line. Regardless, this is something that should be established from the outset otherwise the repercussions could be disastrous.

The floor space ratio dictates the maximum amount of floor area permitted on a site. It includes all floor areas but often has exceptions for area below grade. The calculation can vary widely between municipalities with certain areas being counted in one and not the other.

It's essential that the zoning bylaws that govern your site are fully understood before you begin construction. The sooner you know what you can't do, the quicker you can plan what you can.