Should I stay or should I go

Homeowners these days are faced with countless decisions when approaching the renovation of their new home but one that's rarely considered is whether it's financially worth it to stay where they are. In a construction market gone wild the cost of renovating has escalated to unprecedented levels. It's something one needs to reflect upon before embarking on a project.
Ross Graham, Senior Partner of Kallweit Graham Architecture, has provided countless consultations over the last decade and feels there's tremendous confusion about construction budgets. "People generally don't realize the high cost of renovations these days", he states matter-of-factly. "The thought is that $100,000 will get you a lot, but it doesn't." Construction costs are likely the most pressing issue for most homeowners so it's essential that real numbers are on the table early enough to make the correct decisions. One of these decisions might be to move.
"I routinely have clients bat around numbers that have no reflection on the scope of their project", says Graham, "I often find myself being the spoil-sport, but I need to be." With the average medium sized renovation at coming in at around $300-400,000, Graham feels homeowners should at least consider the prospect of moving instead of renovating. "I'll ask a client how attached they are to their neighbourhood and property. If the answer is lukewarm I'll suggest they look in the market for a finished home that has what they need for a price that reflects the value of their house plus anticipated reno costs." In the end, however, very few of his clients have actually acted on this advice. "They generally like where they are and want to make it work so the decision becomes renovate or build new."
A small renovation, or one that has little direct effect on the existing home, are the most logical to carry out. As the scope increases and the renovation becomes more involved, one needs to take a sober look and decide whether it's worth it. "You don't do a big renovation on an older home to save money" states Graham, "It's cheaper to build new. You do the large reno for other reasons."
The most convincing argument to keep an older home even if renovation costs match or exceed that of new construction is existing non-conformities. Municipalities recognize that bylaws change over time and that older homes may no longer conform to the new regulations. In such cases the existing non-conformities are allowed to remain provided the renovation doesn't make the conditions worse. In all situations new construction will need to conform to the current bylaws. Building placement, floor area and height are examples of elements that fit into this grandfather clause and are often reason enough to maintain this existing residence regardless of cost.
More often than not there are more intrinsic reasons why a homeowner may choose to renovate than move or build new. Recently, the architects at KGA were approached by a professional couple trying to contain three young children in a house poorly designed for the task. The 60's post and beamer was still recovering from a renovation undertaken a decade earlier but its sunny, south facing lot was beautiful. The homeowners had already invested heavily into landscaping the rear of their property and knew the neighbourhood was where they wanted to be. "There were young families everywhere and a school just around the corner - the location was perfect for us. ", explains Colin the homeowner, "to have found a house we wanted on a property like this would have cost us much more money." The client and architect weighed the wish list against the budget and realized a renovation was the best way to go. "It's always a balancing act when a renovation gets this big", states project designer Lucia Sakhrani, "The scope on this project is big, but not big enough, to warrant tearing down the existing house." (see example)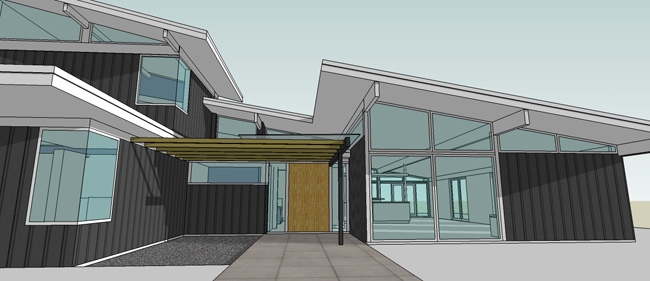 If you're contemplating a renovation it's worth consulting with an architect about your budget and wish list right from the start. Suggestions may be to proceed with the renovation, scale down the wish-list, phase the project, or indeed, move but, in the end, you'll be armed with the best information to make the proper decision for your house and your pocket book.